7 High-Demand Alaska Cruise Tours You'll Want to Book Early
October 12, 2020 / updated December 20, 2019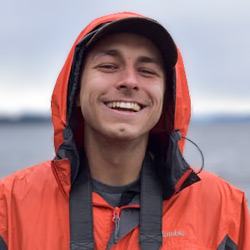 When booking Alaska cruise tours, it's important to know how early in the season a given excursion fills up. For some outings, such as Juneau whale watching tours, it's often possible to secure seats the week before the excursion. In other cases, tickets can begin to vanish as early as the preceding January or February! In this article, our Alaska travel experts highlight 7 particularly high-demand tours you'll want to book well in advance of your trip!
Click here to explore all of our Ketchikan, Skagway, and Juneau Alaska cruise tours.
---
One of Skagway's most iconic and popular adventure excursions is the classic Glacier Point Wilderness Safari. This is one of the perfect Alaska cruise tours for lovers of wildlife and scenic beauty. The 6-hour adventure begins with a scenic boat ride across Lynn Canal. You'll have the opportunity to travel past the town of Haines, often called the adventure capital of the world. Keep your eyes peeled for whales and sea lions along the way! Next, it's off to the highlight of the Glacier Point Wilderness Safari: you'll enjoy a short hike through stunning rainforest before setting out across a meltwater lake in Alaska-style canoes. As you make your way across the water, you'll soon see your destination come into view. The stunning Davidson Glacier looms ahead, a massive alpine iceflow that reaches down toward your boat from high in the mountains!
Because the Forest Service issues a limited number of daily permits, the Glacier Point Wilderness Safari fills up fast! Glacier Point Wilderness Safari availability for certain mid-summer dates can become scarce even by early spring. Book early if you want guaranteed seats for this stunning adventure!
Click here to learn more and to check on Glacier Point Wilderness Safari availability for your Skagway port date!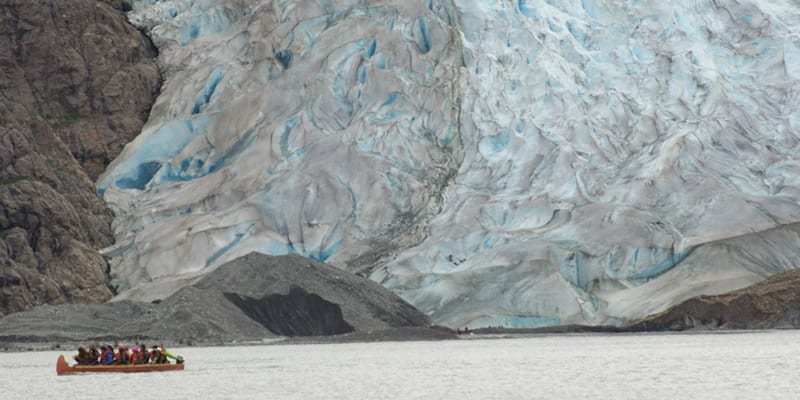 Don't miss out on the stunning Glacier Point Wilderness Safari! One of Skagway's most adventurous outings, this excursion will find you face-to-face with secluded Davidson Glacier, where you can truly see spectacular geology in action!
---
Bear viewing Alaska doesn't come more scenic or adventurous than the fabled Admiralty Island Bear Watch. On this journey, prepare for an in-depth, full-day outing into the land of Alaskan brown bears. Colloquially referred to as the "Fortress of the Bears," the destination explored on this one-in-a-lifetime excursion boasts the highest concentration of brown bears in the world.
You'll board a DeHavilland float plane for the scenic flight to Admiralty Island (south of Juneau). Here, the true adventure begins. You'll meet your expert bear viewing Alaska guides and load up in easy-to-paddle kayaks for a day of exploration up and down a creek system frequented by numerous Alaskan brown bears. You won't want to forget your cameras for this truly unique tour, as you simply won't find a more thorough way to experience bear viewing Alaska than the Admiralty Bear Watch.
Permits to Admiralty Island and Pack Creek are extremely limited; indeed, most summer days, we can send only a single group out on this one-of-a-kind bear viewing Alaska adventure! If you're interested, you'll want to finalize your booking well before the cruise season. Once the permits are gone, they're gone!
Click here to learn more and to check on Admiralty Bear Watch availability for your Juneau port date!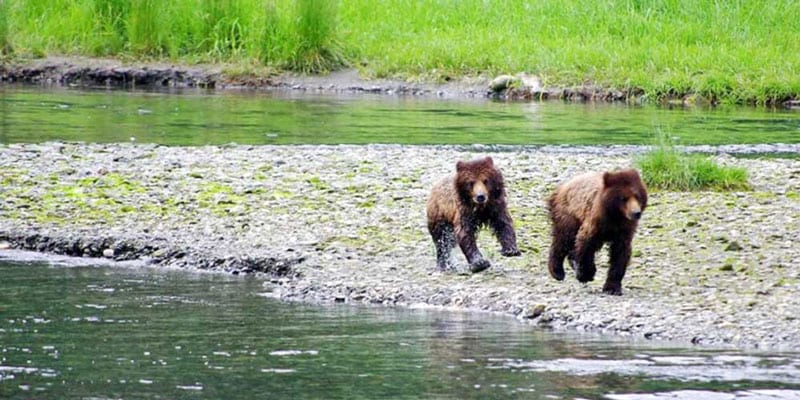 There's nowhere else on the entire planet quite like Admiralty Island. Within its watersheds, you'll find the highest concentration of brown bears in the world! Don't worry, though: They don't eat humans. Usually.
---
History, nature, and adventure lovers seek out this one-of-a-kind Skagway experience, which consistently receives 5-star reviews and earned a Certificate of Excellence on Trip Advisor. Your journey begins with a scenic hour and a half train ride on the White Pass and Yukon Route Railroad. You'll wind your way through stunning landscapes from Skagway Valley to British Columbia and the summit of White Pass. Next, you'll experience a breathtaking fifteen-mile guided downhill bike ride as you coast from the summit back to the sea in Skagway.
A thrill for both the novice and professional cyclist, this Skagway excursion awakens your senses to the sights and sounds of Alaska that you can only experience on two wheels. Your expert guides are well-versed in the ecology and history of the area. They will provide a wealth of information while making sure everyone has fun and stays safe and comfortable.
This Skagway excursion is a very popular tour with extremely limited space. Due to the small, intimate group size (6 guests to 1 guide) and low availability of train seats, this tour fills up quickly. Your best chance of booking this tour is to do so as soon as possible. Expert tip: if you don't see availability on our website, contact us as we may be able to open up more space! Keep in mind: all necessary bike gear is provided, but you will need your passport with you.
Click here to learn more and to check on White Pass Train & Bike availability for your Skagway port date!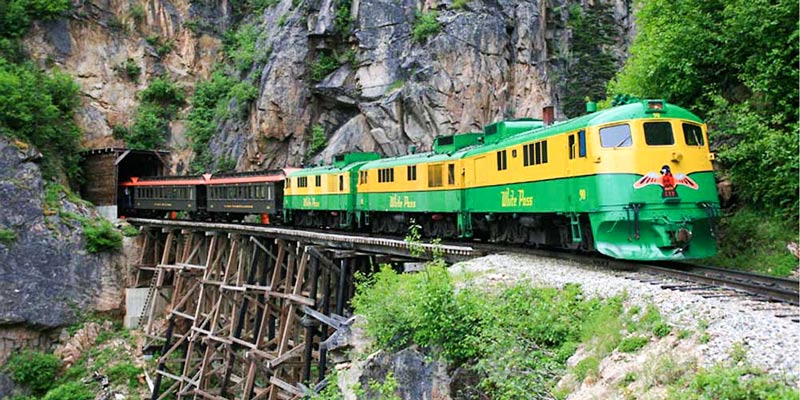 The White Pass Train & Bike gets you the best of Skagway in one: from a stunning train ride, to the adventurous ride down.
---
Looking to experience Mendenhall Glacier (and the stunning Mendenhall ice caves!) during your time in Juneau? The Mendenhall Paddle and Trek is among the most in-depth Alaska cruise tours. It is one of the only ways to experience the massive iceflow up close and personally! The full-day outing, which is without doubt among our most physically demanding excursion, calls for guests to be capable of paddling several miles and trekking up steep glacier ice. If you have the energy for this once-in-a-lifetime adventure, though, there's hardly a better way experience Juneau! Highly experienced guides will lead your group as it makes its way across lovely Mendenhall Lake. Then, conditions permitting, strike out into the otherworldly Mendenhall Ice Caves for some subterranean exploration! Don't worry: We have dry bags for your cameras, as you won't want to leave those behind!
Similarly to the Glacier Point Wilderness Safari, only a limited number of permits are issued daily for visits to the Mendenhall Glacier. You can sometimes purchase tickets last-minute, but high-traffic dates fill up well before peak cruise season. Book early!
Click here to learn more and to check on Mendenhall Glacier Canoe Paddle and Trek availability for your Juneau port date!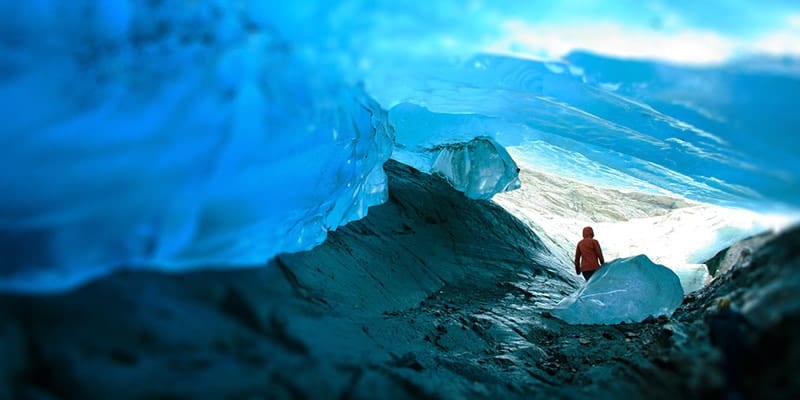 The Mendenhall Glacier Canoe Paddle and Trek is one of the only Juneau Alaska cruise tours on which guests can explore the otherworldly Mendenhall ice caves. Intrepid adventurers rejoice!
---
There are few Alaska cruise tours more iconic than the stunning Helicopter Dogsled Glacier Excursion. With this custom variation on the classic adventure, you'll see an even more stunning and geologically active portion of the iceflow with a second landing! Your excursion begins with an exhilarating 25-minute flight out to Herbert Glacier. If you've never flown in a helicopter, the flight alone makes for an exciting outing!. You'll touch down on the high edges of the gorgeous Juneau Icefield, where a crew of excited canine athletes await!
You'll have time to become acquainted with the extreme-endurance huskies through interacting with both mushers & dogs. Then, climb into your custom dogsled and strike out onto the snow for a genuine Alaskan dogsledding experience. With this special tour, though, that's not the end of the fun! Before heading back to Juneau, you'll enjoy a stop at the stunning lower glacier, where crevasses, moulins, and bright-blue meltwater pools dot the icy landscape.
Helicopter dogsled tours are always in high demand! There are always many more interested guests than there are available seats in helicopters. So, start your search early if you're looking to spend an exhilarating day out on the ice!
Click here to learn more and to check on Helicopter Dogsled (Extra Landing) availability for your Juneau port date!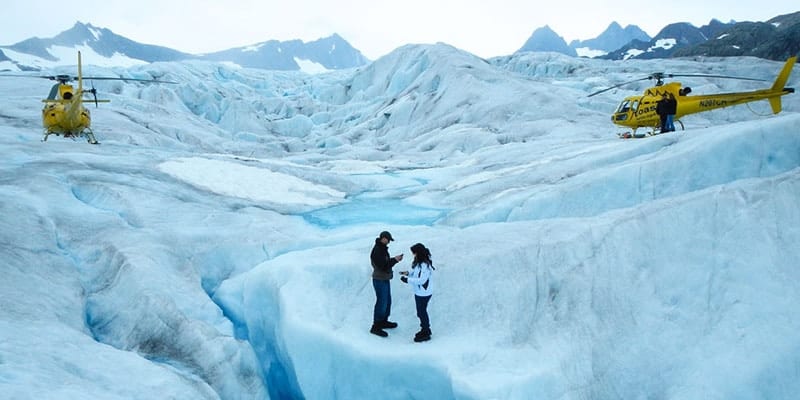 There aren't many places in the world where one can land a helicopter directly on a massive secluded glacier. But, in Juneau, you can! (So long as you book early, that is: helicopter seats fill up fast!)
---
Along with the Admiralty Bear Watch in Juneau, the ever-exciting Neets Bay Flightseeing Adventure is among the absolute top Alaska cruise tours for bear viewing Alaska. Load up in an Alaska-classic DeHavilland float plane and cruise high above lush and lovely Revillagigedo Island as you head toward your vibrant rainforest destination. Don't forget to look down en route, as guests can sometimes make out bears and moose strolling the coastline below! Upon arrival at your secluded and scenic destination, you'll meet your naturalist guides for a short (1/2-mile) hike. You'll head to one of the most prolific black bear feeding grounds in all of Alaska! If you're lucky, and particularly during late-summer salmon runs, you may find yourself face to face with a family (or two, or three!) of Alaskan black bears as they feed on migrating salmon. Just don't get too close!
A relative scarcity of both USFS permits and floatplanes means interested guests would do well to begin their research far in advance; late-summer cruisers usually can still secure seats for Neets Bay the preceding spring, but by the peak cruise season tickets are often difficult to come by.
Click here to learn more and to check on Neets Bay bear viewing Alaska availability for your Ketchikan port date!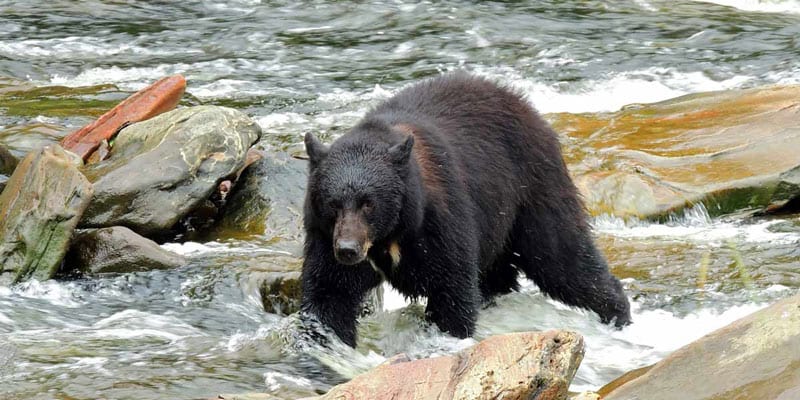 One of the premier opportunities for bear viewing Alaska! The Neets Bay Bear Watch and Flightseeing Adventure is undoubtedly the most in-depth way to encounter black bears while visiting Ketchikan. Timed right, you may see dozens of these stunning animals feeding on the salmon that appear each summer to spawn.
---
As stated above for the Juneau excursion, helicopter dogsled tours are always in high demand. We are often asked, "Which glacier is better?" when helping guests book their helicopter glacier tours, and we honestly can't answer that question! The sights and experiences are always stunning and breathtaking. While there are slight differences between our Juneau and Skagway glacier dogsled tours (which our agents are happy to discuss with you), most of the time guests don't have the option of choosing which port town to do this excursion at. Chances are it will be sold out in at least one of these ports, unless you book well in advance!
While there are many different choices for excursions in Skagway, the helicopter dogsled experience is hard to beat. After a thrilling flight over several glaciers, you'll land on Denver Glacier. Here, happy and excited Alaskan huskies are waiting to run around their camp with sled in tow! Expert guides will introduce you to the world of "mushing", and you can choose to drive the team of dogs or relax in the sled while taking it all in. Then, spend the rest of your time on the glacier with the professional mushers and friendly dogs.
Another important note about availability is that the dog camp is dependent on weather. There must be enough snow on the glacier for the safety of the dogs. Our hope is that the snow lasts through September, but warmer summers cause unfavorable conditions which can close the dog camp early. Keep this in mind if your Alaska cruise date is in late August or September.
Click here to learn more and to check on Skagway Helicopter Dogsled availability for your Skagway port date!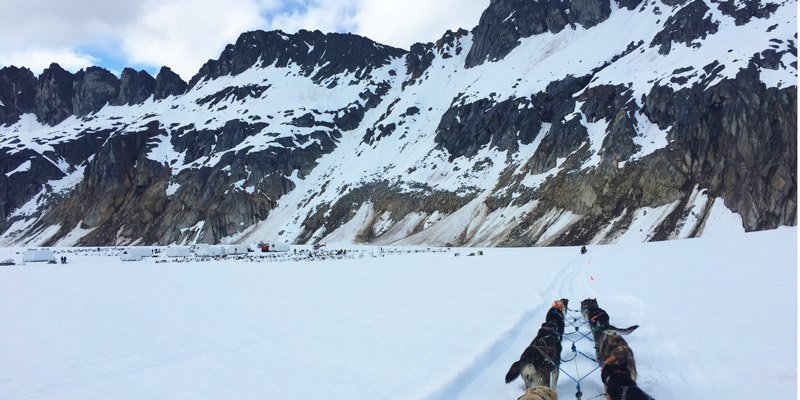 This quintessential Alaskan experience is one you surely won't want to miss! With stunning views of Skagway's surrounding mountains & glaciers and time with real Alaskan sled dogs, this Alaska cruise tour is one of a kind.
---
---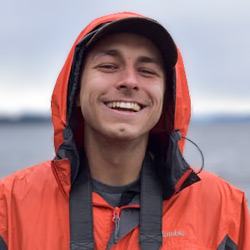 Daniel first saw Alaska at age nine, after a weeks-long drive up the Alaska highway in a weathered RV. He's been in love with the Last Frontier ever since, and he's spent several months guiding teenagers in the wilderness around the Talkeetna Mountains north of Anchorage.
---
Comments
Have a question or something to share about this?